<![if !vml]>

<![endif]>Subaru 46 & Northern New Jersey SCCA
Motorsport Club of North Jersey<![if !vml]><![endif]>
<![if !vml]><![endif]>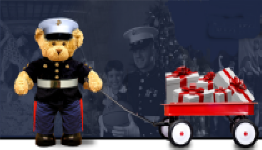 27th Annual Teddy Bear Rallye

Download the Teddy Bear Story as a pdf
A Charity Rallye Supporting the Marine Corps' Toys for Tots
More about Toys for Tots
Sunday, December 3, 2017

Sign-up at 10:30 a.m., First Car Off at 12:01 p.m.
Trophies will be awarded for each class (Expert, Intermediate and Novice)
1st Place Novice Class, 2nd Place Novice Class
1st Place Intermediate Class, 2nd Place Intermediate Class
1st Place Expert Class, 2nd Place Expert Class
Dead Last But Finished
plus - Best Husband & Wife Team, Best Family Team, Best First Time Team
Best Subaru, Best Saturn, Best RVSCC, Best SCCA, Best MGCC. Best PCA

Come enjoy a low pressure 'FUN' event while contributing a bear or other stuffed animal to the Marine Corp's Toys for Tots Program. The Rallye will be less than 70 miles with lots of awards. Run in 3 Classes: Novice, Intermediate and Expert to give everyone a chance at trophies. You can bring the whole family; 2, 3, 4 or even more in a vehicle.
No rallying experience or special equipment is necessary. All you need is a car (any car will do) with a working odometer (a trip odometer is preferable), plus paper and pencil. Please plan on staying after the rallye for a

lively discussion and the presentation of trophies.


Cost per car: A Teddy Bear or other stuffed animal worth at least

$30!


Limit: 35 Cars